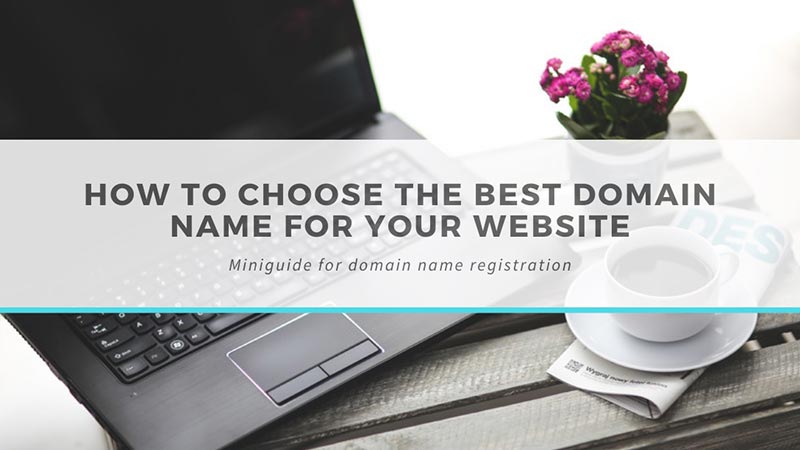 Picking the right domain name is one of the most important decisions you'll have to make for your website. But at the same time, it could very well be one of the most difficult.
To build a website you first need a unique domain name. The domain name is the web address of your site, it is also known as link or URL. For example, a domain name could be mywebsite.com.
In addition to defining your site, your domain also communicates essential information about your business to your visitors.
Before I'll tell you more about the do's and don'ts for choosing your domain name, let's take a look at your options.
Options for your domain name
 The name's length must be 3 to 63 characters long (keep it as short as possible).
Use letters a to z.
Use numbers 0 through 9.
You may use the hyphen (-), but not at the end or the beginning of the name.
You can't use other symbols (such as &$%*).
You can't use special characters (such as éèòàù).
In some cases, special characters are allowed, however. If you register a German .de domain, you can use the Umlaut.
Domain names are not case sensitive. That means that you can write your name in both upper or lower case. For example, mywebsite.com is the same as MyWebsite.com or MYWEBSITE.COM.
Definition of a good domain name
Choosing the domain name that is right for your project can be quite a struggle. What is a good domain name? The answer to that question depends on what you wish to achieve with your website, but all good domain names have four things in common.
A good domain name is:
easy to understand and remember.
easy to spell and pronounce.
representative of your brand or business.
unique and timeless.
Your domain name is your website's address, and while it's not the only factor that affects your site's success, it's absolutely worth it to choose your domain carefully. A memorable and unique domain name will stick with visitors and encourages them to return. Changing your domain name again later in the game when you have a live website online is a rebranding nightmare and leads to time-consuming complications.
Choose a name that will also work if you decide to expand your business in the future. If you include a service or product in your domain name, it might not represent your company accurately any more if you start offering other services or products.
Extension .com or other?
There are over 1000 different domain extension you can choose from, but the most commonly used extension is .com. If you can, you should always register the .com of your name. It is a generic extension that works for a broad range of businesses. If you aim for an international customer base, the .com is the extension for you.
If you own a local business or only offer your services to customers in a specific country, you may want to register your domain with that particular country's extension. For example .it for a restaurant in Florence or .nl for a Dutch business coach. Not only do country domain extensions make it easier for Google to determine where your targeted visitors are located, but it also builds trust and credibility with your local customers.
In many cases, it's recommendable to register both the .com and one or more country domain extensions. Building your website on one of the domains and redirecting the others to your primary domain. This way you avoid that your competition can register the domain and if visitors accidentally type in the wrong extension they still end up on your website.
You may wonder why my domain name is virtualgenie.biz and not .com. The domain virtualgenie.com was already registered, but there is no website attached to it. It's a parked domain that was registered with the sole purpose of reselling it. I asked for a quote, and it could be mine for 19,000 USD. That is why I opted for .biz.
With or without a hyphen?
If your domain name consists of two or more words you may want to separate the words with a hyphen for readability: my-website.com. But, keep in mind that it makes the name harder to remember or type in a browser bar. Best practice is to avoid the hyphen all together if you can, or not use more than one.
If you decide on adding a hyphen, you may also want to register the domain without the "-" and point it to your primary domain. That way even if visitors misspell your name with or without the hyphen they still land on your website.
Keywords in the domain name
Placing keywords in your domain name has very little influence on your Google ranking nowadays. Just because you have specific keywords in your domain name doesn't mean that you will automatically rank for those keywords in the search results. So, from an SEO perspective, a keyword in a domain name has minimal impact, but it can have another advantage.
A domain name that contains a well-chosen keyword tells people immediately what the website is about, which services are offered or where the business is located. The domain CellphoneRepairCastleRock.com, for example, is very useful if you want to reach the people in Castle Rock with a broken cellphone. But don't overdo it and stuff too many keywords in one name. Keyword-rich names are often associated with low-quality content and could be frowned upon by both searchers and Google.
Your brand domain name could become more powerful if you add a well-chosen keyword to it. Instead of "virtualgenie.biz," I could have opted for "virtualgeniewebdesign.biz."
Note that it is not allowed to use names of other brands in your domain name.  For example, Samsung is a registered trademark, and you are not allowed to register SamsungCellphoneRepair.com. In case of doubt, you can check the international trademark database.

Tips for finding your perfect domain name

Use free association and write down all the words that come to mind when you think if your business. Try out different combinations and think outside the box.
Use a

 

domain name generator

 

for fresh ideas.
Imagine how your name will look on your website or a business card.
Check if your desired domain name is still free.
Do you need advice about registering your domain name? I'd be happy to help you.