A new website for your B&B

Your B&B is unique and deserves a website that matches it. You won't find any ready-made solutions with me. Because "one size fits all" does not exist in B&B web design. 
Together we will determine what your new website needs to reach your ideal guest.
The website is built entirely in line with the style of your B&B and corporate identity.
Besides stylish, your site will be structured, clear, and user-friendly for you and your visitors.
On this page, I talk about B&B, but this stands for any small-scale vacation rental or holiday accommodation.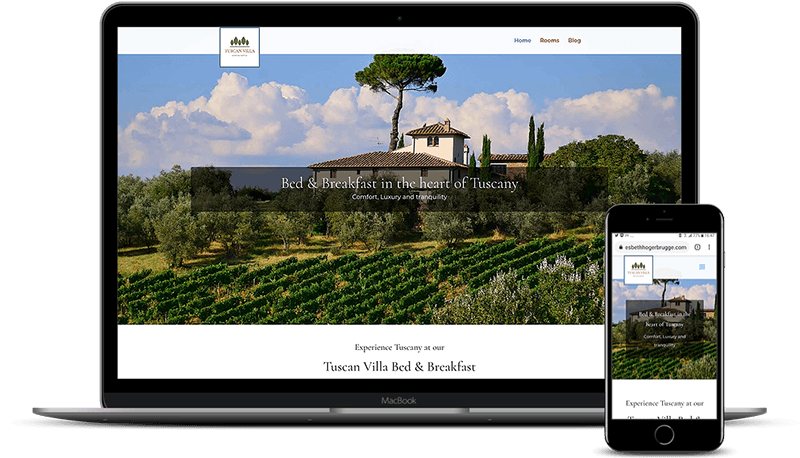 Why does your B&B need a website?
Almost all bookings for vacation accommodations are made online nowadays. If you do not have a site for your B&B, or if your existing website is failing, you will miss out on bookings.
More bookings
Generate more and direct bookings without extra fees. 
It is professional
A well-maintained website is a sign of professionalism.
Increase your marketing reach
Drive traffic from social media, forums, or network meetings to your website. 
It builds trust
Increase your reputation with additional information, reviews, and personality.
Stand out from the crowd
Create a unique and recognizable identity in your style.
Offer added value
Provide additional information about the area and local activities.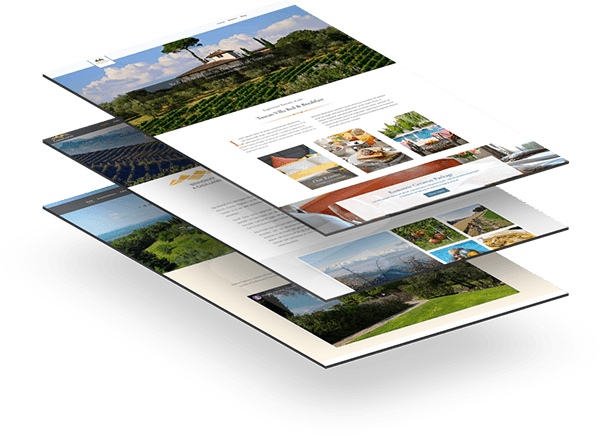 Optimized design
To get the maximum return from your site we "seduce" visitors with beautiful pictures of your B&B, clear information, and strategically placed contact buttons. The visitors on your website will immediately get pre-holiday jitter and become excited. They can already see themselves sitting on the terrace with a glass of wine, relaxing by the pool, or enjoying the beautiful surroundings.
From lookers to bookers
The professional design of the site exudes trust so that interested lookers will proceed to book faster . Make it as easy as possible for your visitors with an availability calendar and online reservation system. In this way, potential guests can immediately see if a certain period is still available and make a reservation directly. Also, from a tablet or smartphone.
A website that is just as inviting as your B&B
You will receive a complete web design package from me with all the essential functionalities you need. A website entirely built in your style, with everything you need to convert lookers into bookers. Also, you can choose to add several additional options.
Professional custom designed design
Responsive web design for all types of screens
Set-up of max 10 pages of content
Add an unlimited number of photos and videos.
Basic optimization for the search engines (SEO)
Content Management System (WordPress) to update content without any technical knowledge
Installation of additional essential software (plugins)
Set-up of SSL certificate for secure navigation (httpS)
Google Analytics integration (free website statistics)
Mandatory cookie consent pop-up
Reservation system (recommended)
Availability calendar (recommended)
iCAL synchronization with booking sites such as Airbnb and Booking.com
Channel Manager integration
Multilingual website (recommended)
Instructions on how to use your new website
Free Maintenance Plan for 30 days
Personalized support also for the non-tech savvy
It can become overwhelming when you first start working on a website for your B&B.
No matter how much or how little technical knowledge you have, I offer you personalized support at your level. Whether you are an expert or are barely able to turn on a computer.
Book an appointment for a first discovery phone call.
It is free of charge and without obligation.
Casa Lanni

Liesbeth has designed a beautiful website for our small-scale luxury holiday accommodation in Piedmont. We had quite a few requirements, we go for quality, but nothing was too much for Liesbeth. She is flexible, fast, and always thinking with you. A pleasant collaboration with a great end result! Our guests also say so. Liesbeth has designed a beautiful website for our small-scale luxury holiday accommodation in Piedmont. We had quite a few requirements, we go for quality, but nothing was too much for Liesbeth. She is flexible, fast, and always thinking with you. A pleasant collaboration with a great end result! Our guests also say so.
"Casa Lanni"
Marisca Lanni & Philip Lottgering
Susan Crakow
Working with Liesbeth on creating a new website for my Italian Villa was easier than I imagined. She is so professional and timely. We collaborated seamlessly together creating a beautiful site that shows off the property. We did everything virtually since I live in the US and she made it painless for me. Working with Liesbeth on creating a new website for my Italian Villa was easier than I imagined. She is so professional and timely. We collaborated seamlessly together creating a beautiful site that shows off the property. We did everything virtually since I live in the US and she made it painless for me.
"Susan Crakow"
Susan Crakow