Grow your business


with a professional website
WEB DESIGN SERVICES
for small business owners & entrepreneurs
If you are a small business owner or entrepreneur, you need a professional website to increase your online visibility, attract new customers, and grow your business. Not only should your site function as an attractive showcase for your services and products, but it also has to be functional, user-friendly, and optimized for the search engines.
Whether you want a brand-new website, or are looking to improve your existing site, I can help you build a strong online presence with a website that is both beautiful and functional.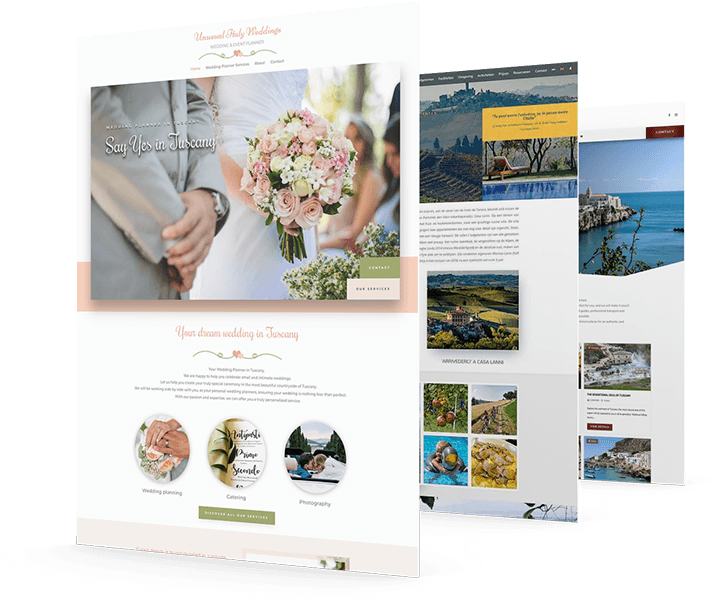 Your site specially designed for your business and your needs, user-friendly, and fully optimized.

Budget Websites
Website Packs for starters to go online fast on a budget.

B&B Web Design
Allround website services for your B&B or vacation rental.

Maintenance
Keep your site up to date, secure and running smoothly.

Virtual Assistance
Virtual Assistant Services for all your WordPress website work.
Let's talk about your website and how I can help you grow your business online.
The first consult is free.

Liesbeth has a great eye for web design. She works together well with clients and chooses appealing colors, images, and fonts for all of her projects. She also responds promptly to questions and/or glitches with WordPress, which is highly appreciated! I recommend her, her work, and her ability to create and build a website with patience and care. She works a lot with the English speaking expat community in Florence, Italy and can be counted on to provide both a functional and captivating website for anyone.
Sheila Corwin

Working with Liesbeth has been very easy. Her initial explanation of her working method, the ease and speed with which things moved forward and her professional view of web design. Very satisfied!
Linda Moelands