Laat je bedrijf groeien
met een professionele website
WEBDESIGN DIENSTEN
voor ondernemers 
Als je een zelfstandige ondernemer of entrepreneur bent, heb je een professionele website nodig om je online zichtbaarheid te vergroten, nieuwe klanten aan te trekken en je bedrijf te laten groeien. Jouw site moet niet alleen fungeren als een aantrekkelijke etalage voor jouw diensten en producten, maar deze moet ook functioneel, gebruiksvriendelijk en geoptimaliseerd zijn voor de zoekmachines.
Of je nu een nieuwe website wilt of jouw bestaande site wilt verbeteren, ik kan je helpen met het opbouwen van een solide online presentie met een website die zowel mooi als functioneel is.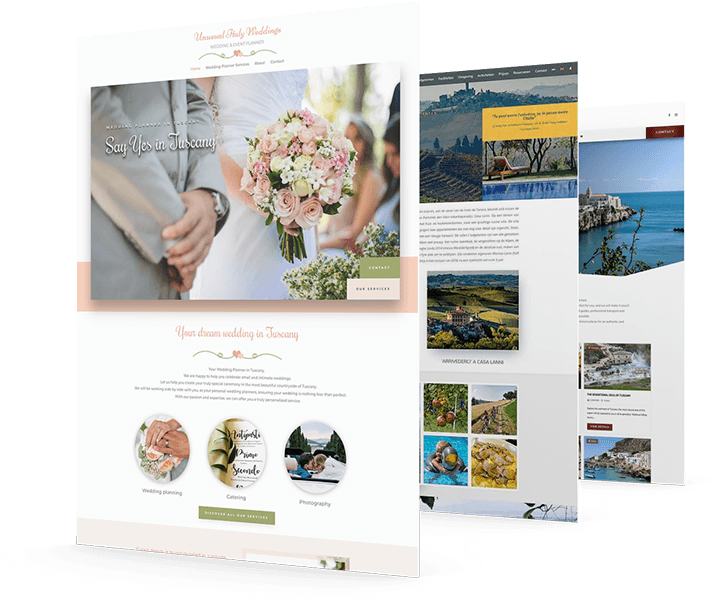 Jouw website volledig op maat ontworpen voor jouw bedrijf, gebruiksvriendelijk en volledig geoptimaliseerd. 

Budget Websites
Websitepakketten om met een beperkt budget snel online te gaan.

B&B Webdesign
Allround website services voor je B&B of vakantiewoning.

Onderhoud
Voor  een site die altijd up-to-date en beveiligd is en die goed functioneert.

Virtual Assistance
Virtual Assistant Diensten voor al je WordPress website klussen.
Ben je klaar voor jouw nieuwe website?
Neem contact op voor een eerste vrijblijvende kennismaking.

Liesbeth did a great job on redesigning my website Speakeasy Multilingual for my group for events for the international community in Florence. The end result is great, infinitely better than the original do-it-yourself site. She was a pleasure to work with, patient with my slowness, and a great source of suggestions. She knows her stuff on the technical side and has a great aesthetic eye too! Definitely recommend her!
Miriam Hurley

Liesbeth has not only helped me bring into realisation a magical, personal website for my online coaching business. She has also helped support me on my own personal growth journey and supported me with ideas, inspiration and adaptivity to my own work flow. The website feels like me and I am so happy to put it out there for the world to see. It functions beautifully and the image we created together is exactly what I was looking for. She is a wonderful designer, support and woman and I could not recommend her more highly! Thank you Liesbeth!
Zoe Louise