Laat je bedrijf groeien
met een professionele website
WEBDESIGN DIENSTEN
voor ondernemers 
Als je een zelfstandige ondernemer of entrepreneur bent, heb je een professionele website nodig om je online zichtbaarheid te vergroten, nieuwe klanten aan te trekken en je bedrijf te laten groeien. Jouw site moet niet alleen fungeren als een aantrekkelijke etalage voor jouw diensten en producten, maar deze moet ook functioneel, gebruiksvriendelijk en geoptimaliseerd zijn voor de zoekmachines.
Of je nu een nieuwe website wilt of jouw bestaande site wilt verbeteren, ik kan je helpen met het opbouwen van een solide online presentie met een website die zowel mooi als functioneel is.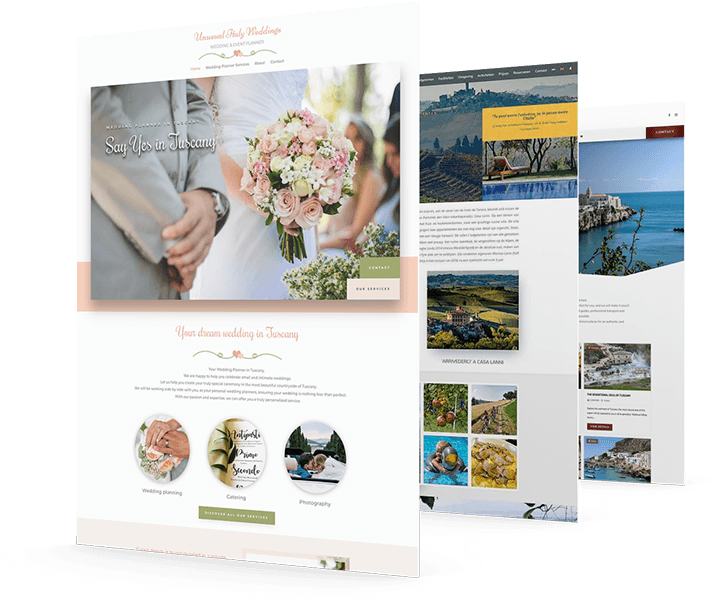 Jouw website volledig op maat ontworpen voor jouw bedrijf, gebruiksvriendelijk en volledig geoptimaliseerd. 

Budget Websites
Websitepakketten om met een beperkt budget snel online te gaan.

B&B Webdesign
Allround website services voor je B&B of vakantiewoning.

Onderhoud
Voor  een site die altijd up-to-date en beveiligd is en die goed functioneert.

Virtual Assistance
Virtual Assistant Diensten voor al je WordPress website klussen.
Ben je klaar voor jouw nieuwe website?
Neem contact op voor een eerste vrijblijvende kennismaking.

Liesbeth has a great eye for web design. She works together well with clients and chooses appealing colors, images, and fonts for all of her projects. She also responds promptly to questions and/or glitches with WordPress, which is highly appreciated! I recommend her, her work, and her ability to create and build a website with patience and care. She works a lot with the English speaking expat community in Florence, Italy and can be counted on to provide both a functional and captivating website for anyone.
Sheila Corwin

Werken met Liesbeth is heel gemakkelijk geweest. Haar initiele uitleg van haar werkwijze, het gemak en de snelheid waarmee de zaken vooruit gingen en haar professionele kijk op het webdesign. Heel tevreden!