Jouw website vertegenwoordigt jouw bedrijf en met een design op maat, kun je het precies zo krijgen als je het wilt.
Niet alleen zal jouw website er geweldig uitzien, het zal ook alle benodigde functies bevatten om nieuwe klanten aan te trekken en de conversie ratio te verhogen.
We werken samen tijdens het creatieve proces om jouw visie om te zetten in een website waar ontwerp, marketing en copywriting de juiste balans vormen.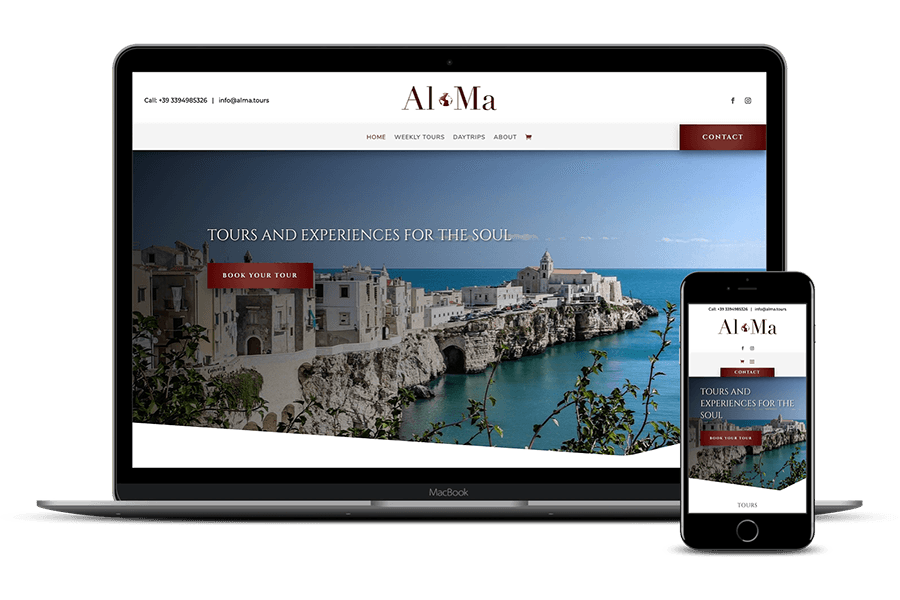 Welk type website heb je nodig?
Van een 1-pagina-website tot een complete bedrijfssite.
Business website
uitbreiden en groeien met een professionele website.

Blog
deel jouw kijk op de wereld en ervaringen op een blog.

Meertalig
vergroot je markt tot globaal niveau met een meertalige site.
Custom design
Op maat gemaakt webontwerp dat past bij jouw wensen en zakelijke behoeften.
Responsive design
Goede weergave op alle schermformaten zoals desktop, laptop, tablet en mobiel.
Geoptimaliseerd
Transformeer bezoekers in betalende klanten met strategisch geplaatste call-to-actions.
SEO
Basic Search Engine Optimization is inbegrepen om de site op Google te indexeren.
Beveiliging
Installatie van back-up- en beveiligingssystemen om de site veilig te houden.
WordPress
Je site gebouwd met WordPress en het veelzijdige Divi-thema.
Persoonlijke aanpak
We werken samen om de beste website voor jou te bouwen.
Instructies
Ik leer je hoe je tekstuele wijzigingen kunt aanbrengen.
Gepersonaliseerde support ook voor niet-techneuten
Je ziet door de bomen het bos niet meer wanneer je voor het eerst aan een website voor je bedrijf gaat werken. Hoeveel of hoe weinig technische kennis je ook hebt, ik bied persoonlijke ondersteuning op jouw niveau. Of je nu een expert bent of nauwelijks een computer kunt aanzetten.
Maak een afspraak voor een eerste gesprek.
Het is gratis en vrijblijvend.

Liesbeth did a great job on redesigning my website Speakeasy Multilingual for my group for events for the international community in Florence. The end result is great, infinitely better than the original do-it-yourself site. She was a pleasure to work with, patient with my slowness, and a great source of suggestions. She knows her stuff on the technical side and has a great aesthetic eye too! Definitely recommend her!
Miriam Hurley

Liesbeth has not only helped me bring into realisation a magical, personal website for my online coaching business. She has also helped support me on my own personal growth journey and supported me with ideas, inspiration and adaptivity to my own work flow. The website feels like me and I am so happy to put it out there for the world to see. It functions beautifully and the image we created together is exactly what I was looking for. She is a wonderful designer, support and woman and I could not recommend her more highly! Thank you Liesbeth!
Zoe Louise