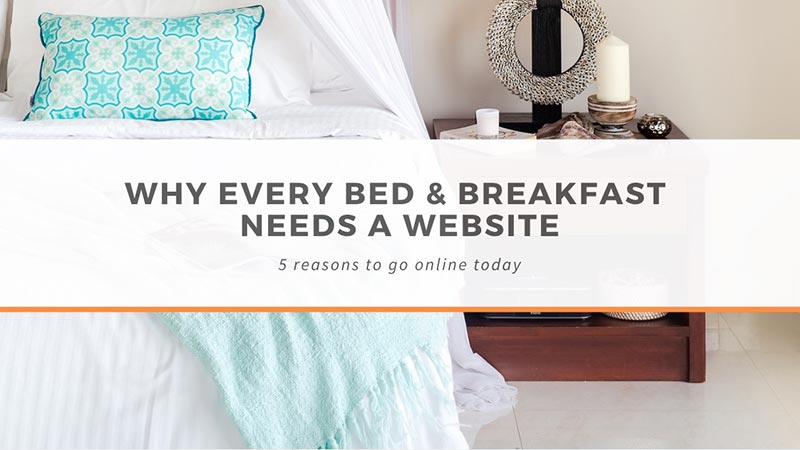 Having your own website has enormous benefits for a Bed and Breakfast. The 5 most important reasons for being online are listed here.
After a long preparation, a renovation full of surprises and maybe even a move abroad, you have festively opened your Bed & Breakfast, and you are ready to receive the first guests. You have registered your vacation rental on various booking sites such as Airbnb and Booking.com. Perhaps you have already received the first bookings, and you wonder if you should also have a website for your Bed & Breakfast?
Whether you have a B&B, holiday home, guesthouse or any other type of vacation rental, the website is always the center of all marketing activities. With a professional site optimized for vacation rentals, you can stand out from the crowd, accept direct bookings, and increase your online credibility.
The 5 most important reasons why your Bed and Breakfast needs a website.
1. Accept direct bookings
The most important reason why you want to have a website for your vacation rental is that you can accept direct bookings from guests. For all bookings received via booking sites, service costs are charged to the owner and often also to the guest. Direct booking through your website is, thus, financially advantageous for you but also for your guests. Booking directly at an accommodation is becoming increasingly popular, and that certainly applies to return guests.
2. It is professional
A well-maintained website with clear information is a sign of professionalism and also a fundamental part of the identity of your company. Your Bed and Breakfast is a business, and a professional website with its own domain name is a must. Which link do you put on your business card otherwise, or do you give potential guests? Also, an email address linked to your domain name is a lot more professional than a Gmail address.
3. It builds trust
Lookers become bookers if they are convinced that your vacation rental can offer them a fantastic holiday in a well-kept accommodation that suits them. Tell something about yourself on your website and show what you are about. Post raving reviews, awards badges, and links to articles about your accommodation in the press. Many lookers who find your accommodation on a booking site will also want to check out your website. If you do not have a site, that may be a reason for potential guests not to book at all and to continue their search.
4. Stand out from the crowd
On a booking site, you are restricted by their set-up and rules. On your website, you are free to do whatever you want and show what your unique concept is. Just as your Bed and Breakfast is your unique spot in the world, your website is your spot on the Internet that you can fully align with your style and the guests that you want to attract. Let the concept of your accommodation reflect in your logo and corporate identity to create a unique and recognizable brand.
5. Inform and offer added value
The accommodation and all it has to offer is, of course, essential for potential guests, but they also want to know what they can see and do in the area before they book. On a dedicated page on your website, you can offer added value by providing tourist information about sights and activities in the area. You can also team up with local business owners for a cook at home, wine tasting, bike rental, or special discounts for your guests.