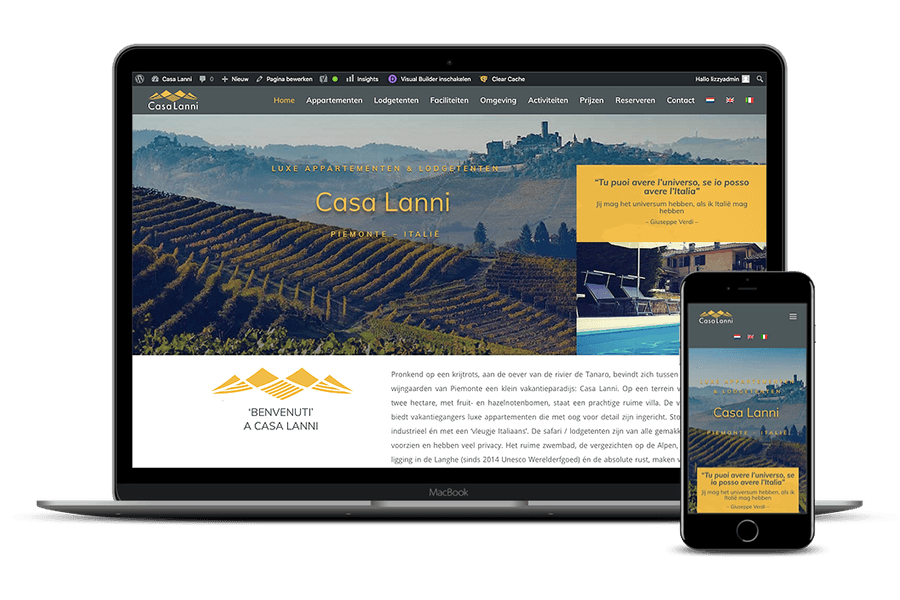 CASA LANNI offers two luxury apartments and lodge tents in Piedmont, Italy.
Run by Dutch owners Marisca and Philip, Casa Lanni opened its doors in the summer of 2019.
The spacious villa is located on a two-hectare property with a spacious swimming pool and lots of privacy.
The client had a pretty clear idea about the feel and look of the website. The layout was designed in close collaboration with the client, and I checked back with them regularly to make sure that I was always on the right track.
The project consisted of developing an informative and easy to navigate website for the holiday residence with the purpose to attract new visitors, to arouse their interest, and to transform them into paying guests.
Custom Web Design in WordPress
Basic Search Engine Optimization
Casa Lanni
Liesbeth has designed a beautiful website for our small-scale luxury holiday accommodation in Piedmont. We had quite a few requirements, we go for quality, but nothing was too much for Liesbeth. She is flexible, fast, and always thinking with you. A pleasant collaboration with a great end result! Our guests also say so.

Marisca Lanni & Philip Lottgering